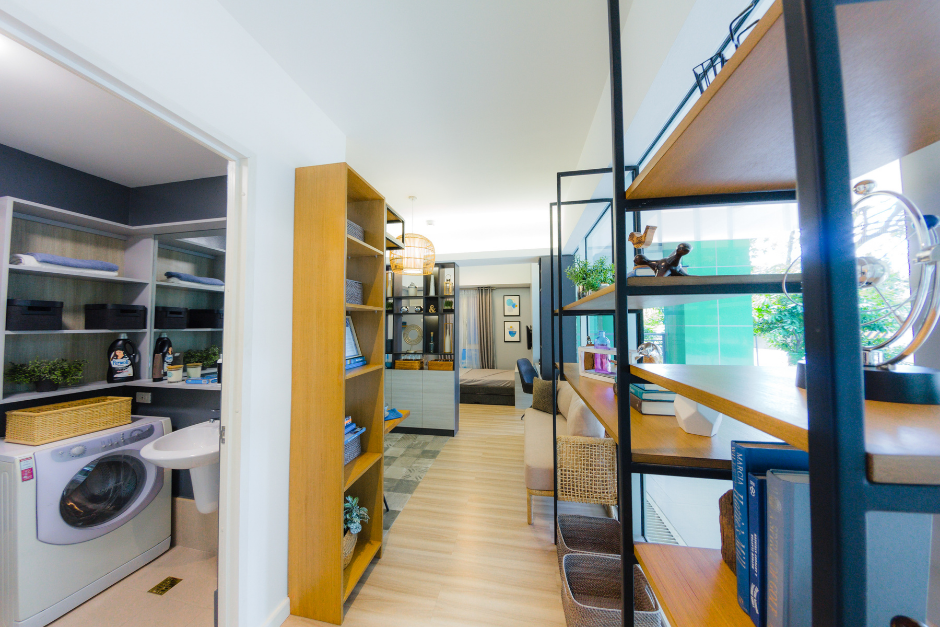 places
Designer Living Space for Work and Play in Cebu City
November 25, 2021
Finding that balance between work and rest is the current challenge of many of us living in the city, especially when it comes to designing our own condominium units. Melissa Du Rojas, an architect and interior design consultant who has been practicing for more than 20 years, shows here how she curated Avida Towers Riala's living spaces to complement Cebuano condo dwellers' needs for adapting to the new at-home-living lifestyle.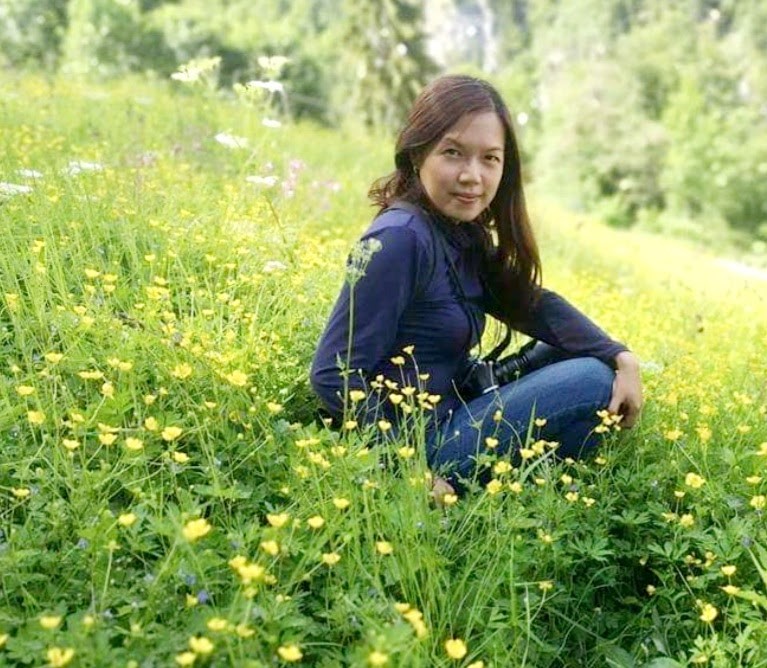 This Cebu-based designer's wide experience in interior fit-outs and construction management for commercial and residential projects makes her the right professional to work on Avida Riala, and she has been doing design consultancy for the Avida's Visayas-Mindanao projects since 2012. Melissa's curation of her décor and lifestyle store Nice Things, which she has owned since 2000, has honed her eye in choosing efficient but trend-setting pieces for different spaces. The designer's challenge was to conceptualize an Avida Towers Riala resident's lifestyle in these show units, while creating ways to address the current work-from-home arrangements and each homeowner's various hobbies while still maintaining a relaxing and comfortable atmosphere for both clients.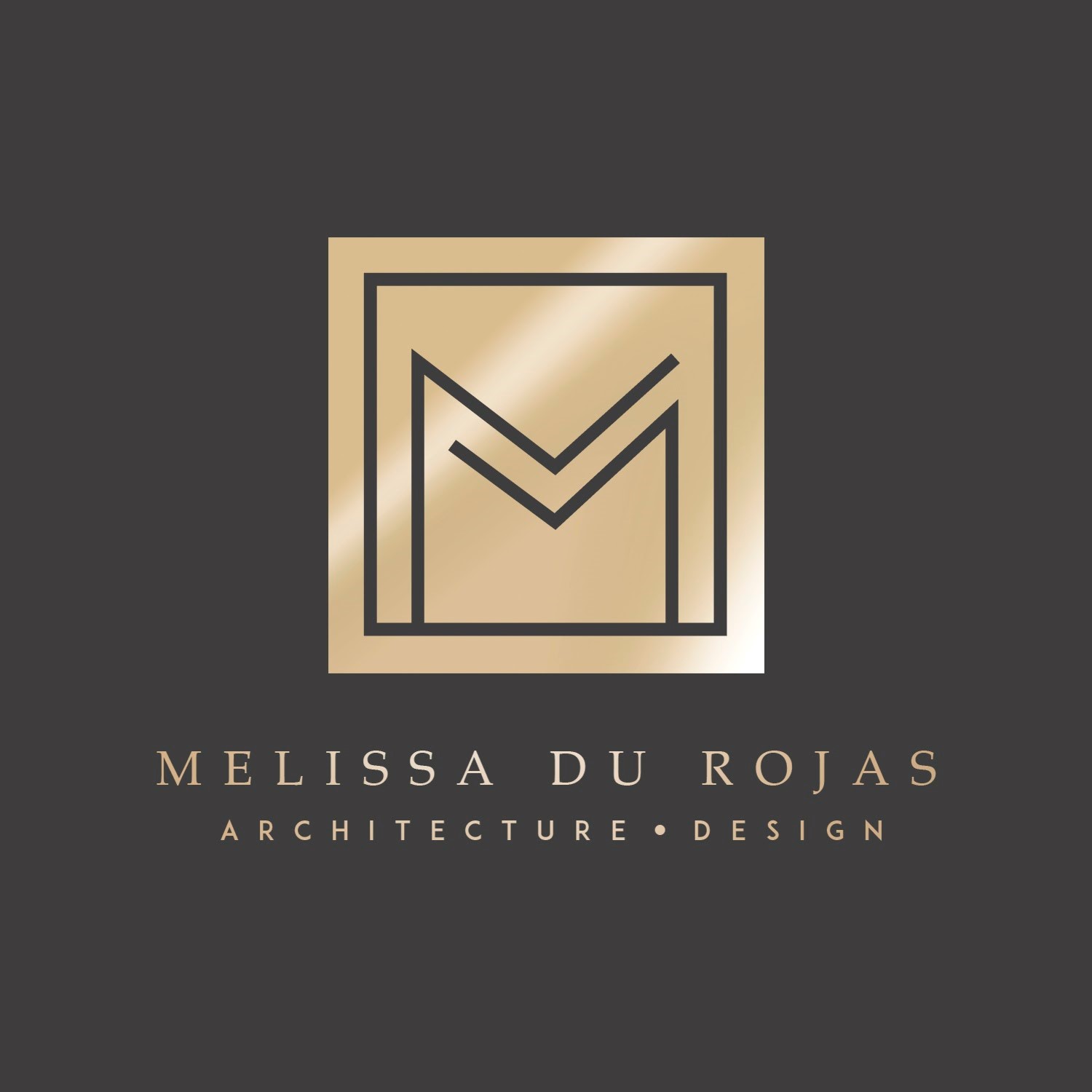 Studio: A Vlog Life-Worthy Living Space
The first Riala unit that Melissa tackled was a 25-square-meter studio unit. This studio unit is perfect for single Millennials looking for safe and secure communities with sensible features and amenities and thoughtfully designed condo units for Cebuanos who want experience city living in Cebu I.T. Park. The designer conceptualized this studio unit for a single male account executive and foodie who does travel and food vlogging during his free time, so it was important for Melissa to create two defined spaces for the client's specific activities: one for eating and cooking, and the other for work, lounging, and sleeping.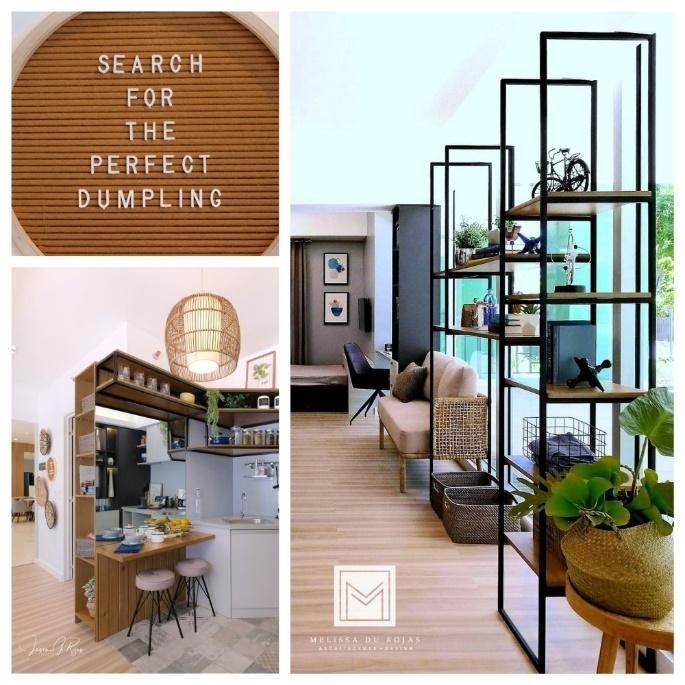 We then had to maximize the use of the space, making sure our homeowner had more than the basics covered, and keeping in mind the importance of function, while creating an ambiance that enhances the wellbeing of the homeowner," Melissa said. This maximization of space was created through the use of built-in dining and food preparation nooks, modular partitions, customized sleeping, entertainment, and work areas, and mirrored surfaces. For the overall design theme, Melissa wanted to achieve "…an organic café-feel, reflective of the character and interests of the user." The clean lines of the fit-outs, the play of sophisticated metal and dark wood against the warmth of local woven materials like rattan and wicker, along with the tailored upholstery of the lounge and study area all contribute to this feel. Melissa's choice of a neutral heather-gray-and-taupe color scheme accented with cobalt blue and mustard makes this unit feel masculine, yet fresh and young. The designer shared her secrets on putting these elements together to create this dream space.
Utilize a partition to separate eating and lounging areas
"With the compact space, we have provided a modular, two-toned partition that also serves as extra storage along the kitchen while partially concealing the more intimate sleeping area without making the space look cramped," Melissa explained. The modular unit, which has shelving on top for the homeowner's mementoes, and closed cabinets in the bottom, adds privacy to the sleeping area while still making it feel airy and spacious.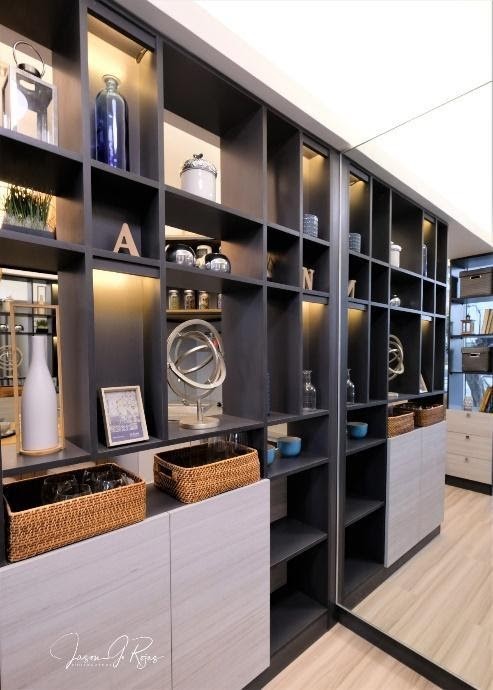 Make a built-in dining nook.
Another space-saving feature of the studio unit is the kitchen-dining area, which is the heart of the food vlogger's home. "Instead of a loose dining table, we made use of a two-seater kitchen nook to save space and extend kitchen preparation," said Melissa. A tropical rattan lamp, and rustic tiles in a random pattern lend a laidback feel and make the space vlog-worthy.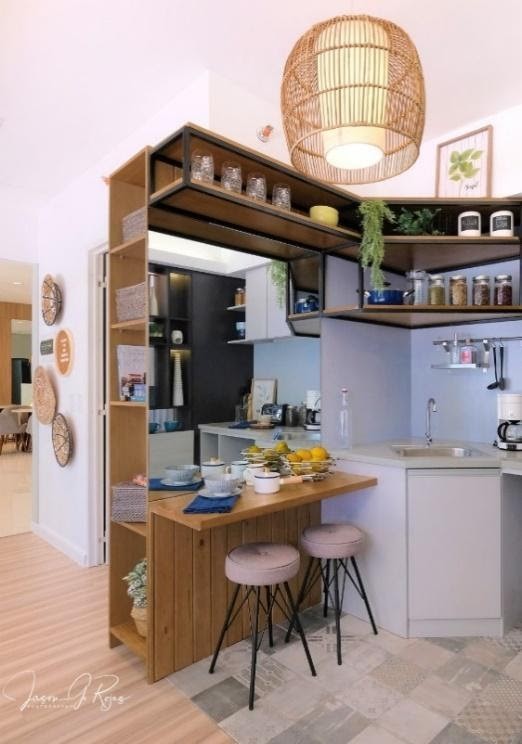 Have a separate sleeping and working space.
On the other side of the modular unit is for lounging and working, and comes with a cozy sleeping space by the window that is composed of a twin bed with an upholstered base that contains pullout, if the homeowner has extra guests. Across this spot is the study area, which also serves as an entertainment unit.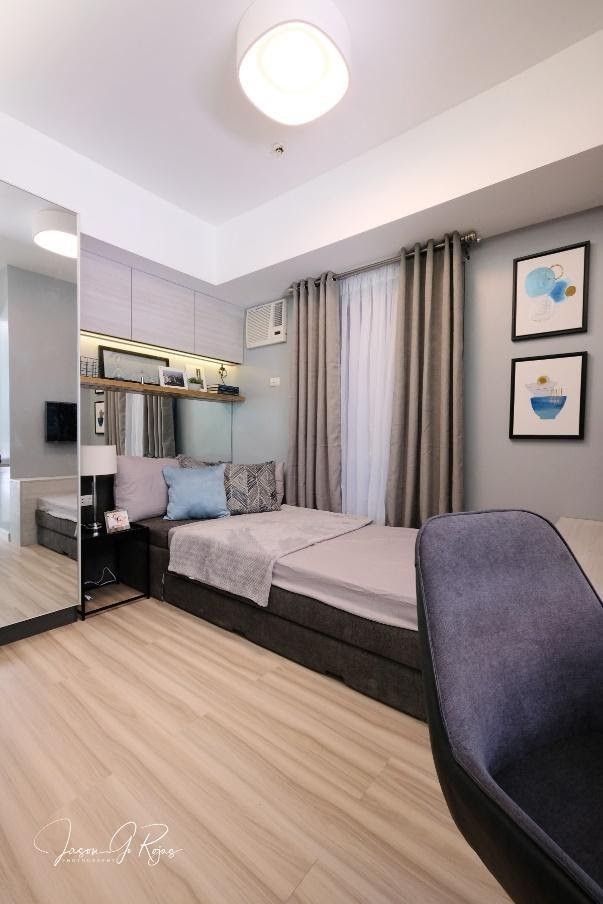 Tie it all together with a relaxing color scheme and interesting textures.
"Various layers, textures and shades of gray with blue and mustard accents, black, wood tones, rattan, abaca weave, set the tone for a relaxing 'man cave' for the corporate executive by day and foodie for life," Melissa explained.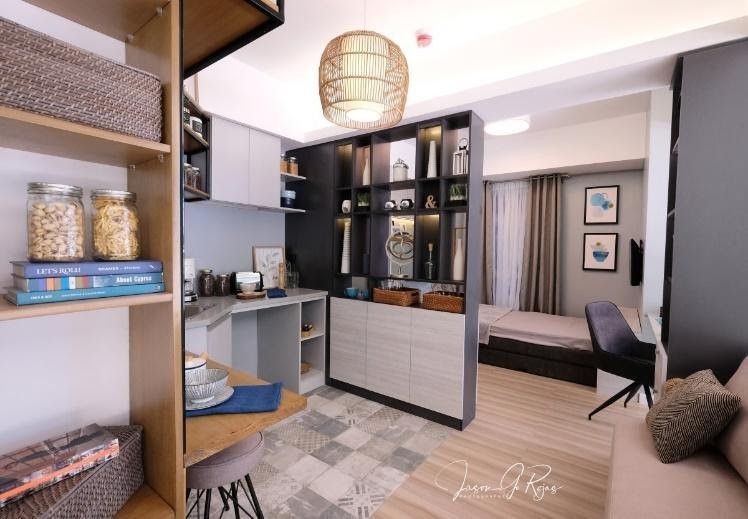 One-Bedroom Unit: Globe Trotter Duo
Melissa's design for the second show unit is intended for a creative couple; in this case, a photographer husband-and-wife team. "Designing this 41-square-meter contemporary-luxe one-bedroom unit was one of our personal favorites, since we share the same passion with the client and that is travel and photography," Melissa revealed. "The unit is designed for a young shutterbug couple who has a photography and events studio."
Use soft and calming colors for an elegant aesthetic.
The predominantly neutral living room is highlighted by a robins'-egg-blue feature wall, which also serves as a mini-gallery for the couple's photography work. The addition of a retro-style tripod lamp in the corner alludes to their profession. In the dining room, a circular dining table helps save on floor area, and is accented by a modern pendant light.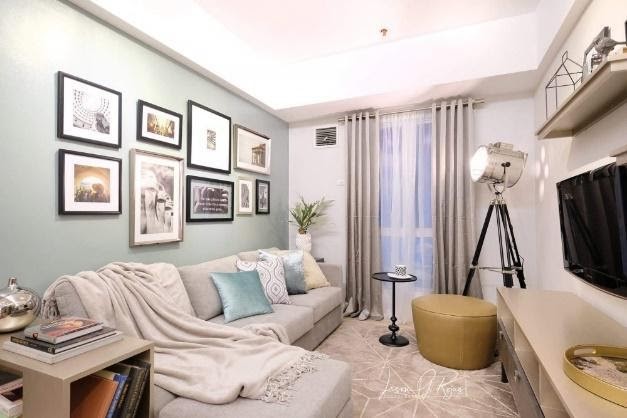 Choose a focal point that doubles as storage.
"The dining space looks more spacious with the mirror-cladded wall on one side, and a built-in metal-and-glass shelf unit attached to a pantry cabinet," the designer explained, "The metal shelving in champagne finish is our favorite detail for this project because even with its narrow depth, we are able to display the couple's collections and mementos, along with framed photographs, which certainly add depth of character to the space and always make beautiful conversation starters."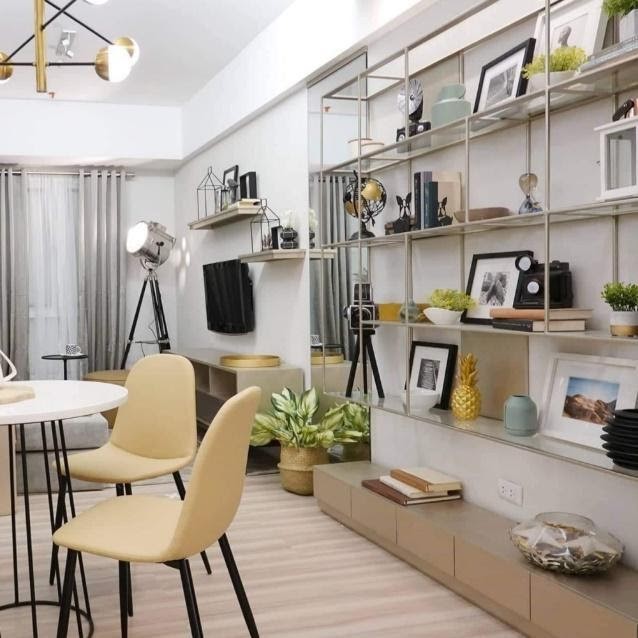 Create a hotel-like atmosphere with luxurious touches and soothing hues.
The couple's spacious bedroom, with its pale wood, light blue, sea-foam green, and beige colors, is a relaxing haven. A padded-fabric headboard adds a hotel-like touch to the bed, while the study area is thoughtfully fitted out with shelving, closed cabinets, and a generously-sized desk, creating a work-from-home space without it looking like an office. Here, husband-and-wife can edit their photos and plan their events in peace and comfor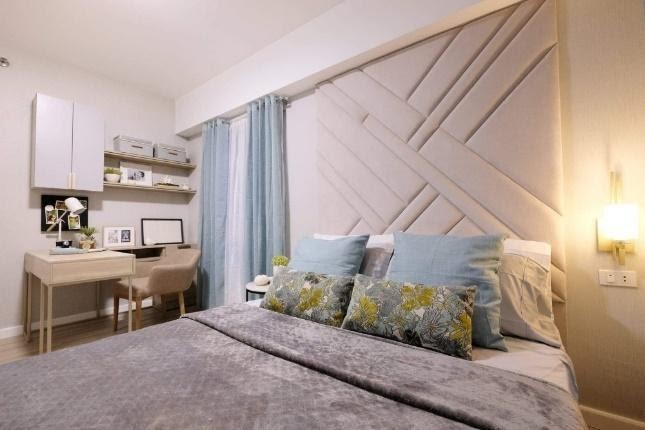 Add witty and creative accents to personalize the space.
The photography theme extends to the bathroom, which is highlighted by a mural with the inspirational saying: "When life gets blurry, adjust your focus." Melissa added that by "…taking cue from the couple's character and interests, this one-bedroom unit has a timeless style with understated glamour. Geometric details, metallic matte, and polished finishes, a balance of neutral tones and some teal and warm shades of yellow accents create a space that is both relaxing and invigorating for the creative mind."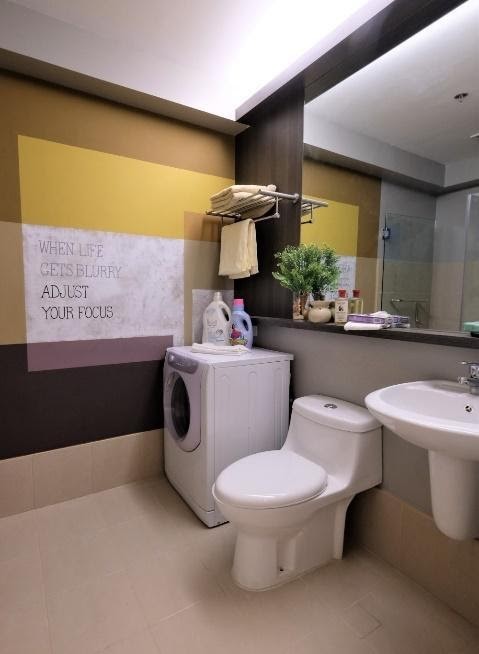 One of the main takeaways from seeing Melissa's design work is that taking on a theme inspired by the homeowners' interests will instantly personalize a space. Decorative accents and personal mementoes can reflect a lifestyle that is apt for the dynamic, urban way of city living in condos; while the soothing color schemes and clean-lined furnishings add to the relaxing vibe that is characteristic of Avida Towers Riala. If you've been searching for a home at Cebu I.T. Park, Cebu City where you can find the perfect work-life balance, discover what Avida Towers Riala has in store for you by checking out these life spaces here. https://www.avidaland.com/avida-towers-riala/